Organize your LinkedIn inbox like a boss
February 18, 2020 in Productivity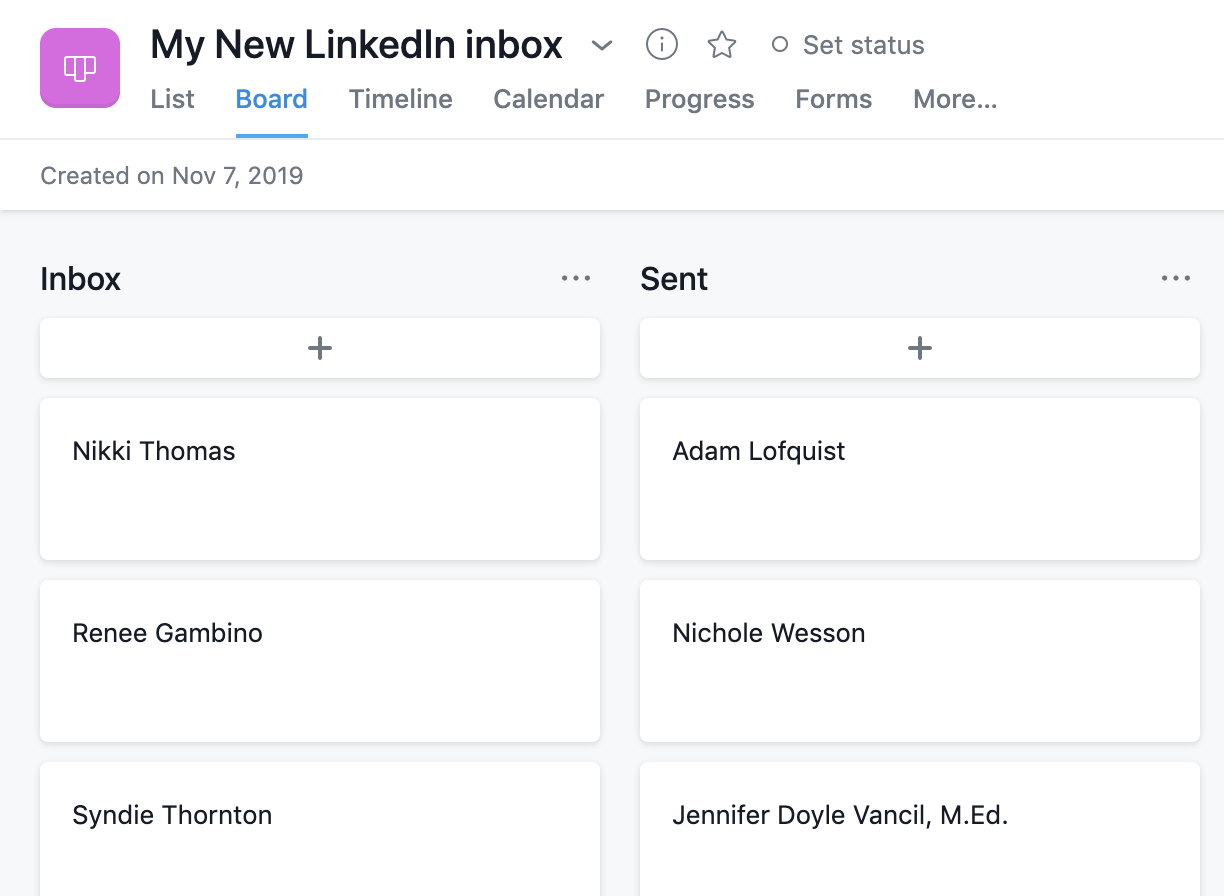 If you are using LikedIn you pretty much familiar with their inbox - it's a stack of threads which works well enough if you reach out to a few people every now and them.

But if you are using LinkedIn more heavily, you might notice that managing the inbox becomes quite a problem at scale. And the problem is that there is no way to organize your sent messages vs the incoming messages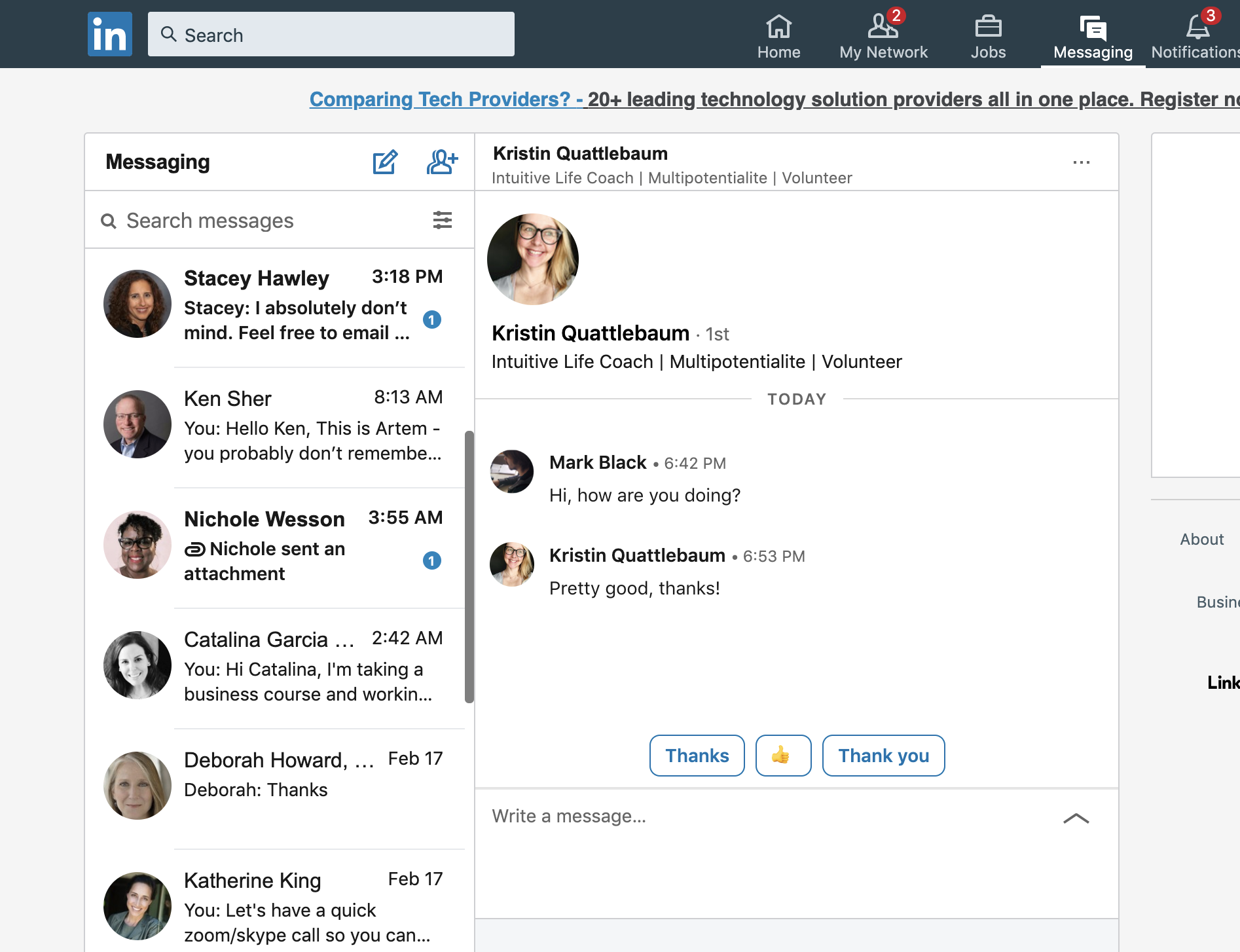 So if you need to reply to several people, you need to scroll to those and reply. Easy, right? The problem is that as soon as you do that, this thread will become the first one and you'll have to scroll back to send the new message.

This stacks and becomes a mess fairly quickly.

Possible workaround is to scroll through all the threads and open each of them in a separate tab. Now we've got a bunch of tabs opened which is a different problem to manage. Meh...

But isn't there a better way?


Technology to the rescue!
So if we could separate our incoming messages from the sent ones we could easily keep track of what's going on and make sure that the important conversations got a reply.

This is where a free software called asana comes out handy. Just create your account there, create a project (we called it LinkedIn inbox) and setup two columns - one for the "inbox" folder and another for the "sent" one. This is where the messages from LinkedIn will land.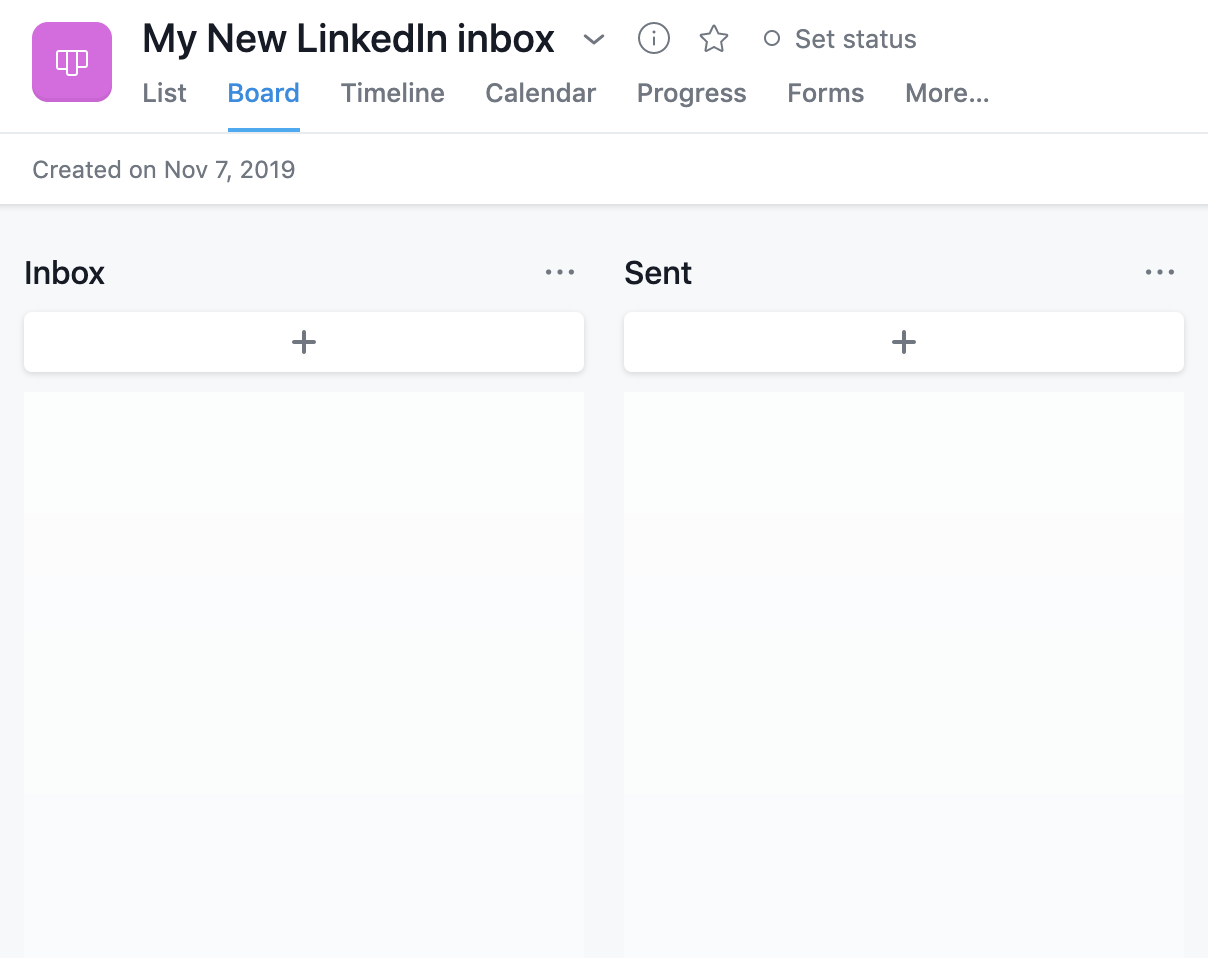 Ok, but how do we make LinkedIn to send the messages to our new project in asana?

It's simple! We can just use InTouch Tool for that. It's a chrome extension that can automate LinkedIn connections and followup messages. And it can also send all the replies to any software of your choice.

So let's see how to connect the both.


(so all your replies go to the organized inbox)
Use this link to install InTouch Tool - this tool can send invites and followups on LinkedIn which can automate your outreach. And it will monitor your LinkedIn inbox for replies. Note that it will only send the replies from people you've reached out using InTouch Tool.

Now as everything is installed let's get to the fun part.

Zapier is a software with a free tier that can connect thousands of different applications together.

We'll connect InTouch Tool to Asana in this case. Just click this integration link to get started.

On Zapier, for InTouch Tool trigger pick "New reply" and for Asana action pick "Create new task":

Connect your InTouch Tool account with Zapier: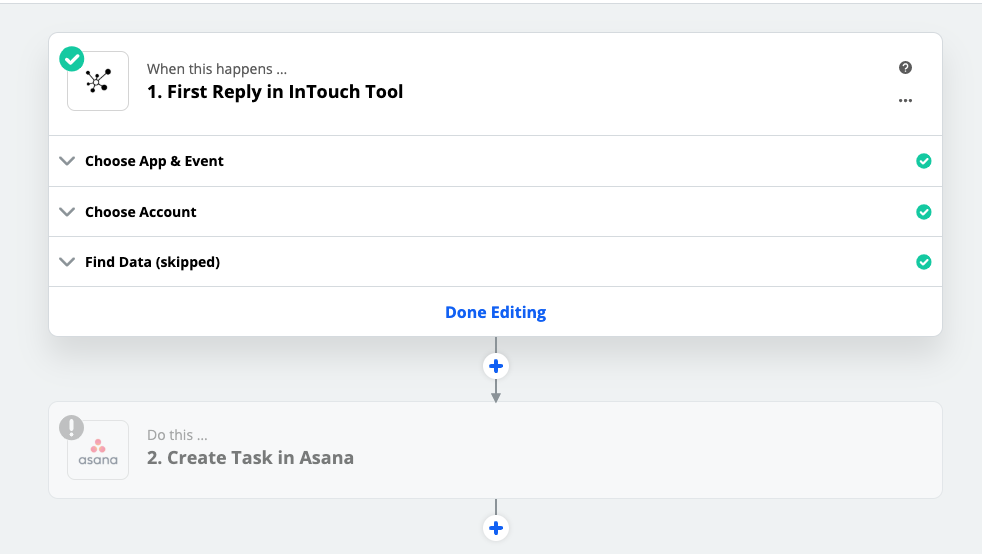 And move to the Asana step. There you can specify what data from InTouch Tool to add to the task and where this task should appear (remember the "Inbox" column we created above?)

You can also specify additional data to send to asana like prospect's mail, phone, website.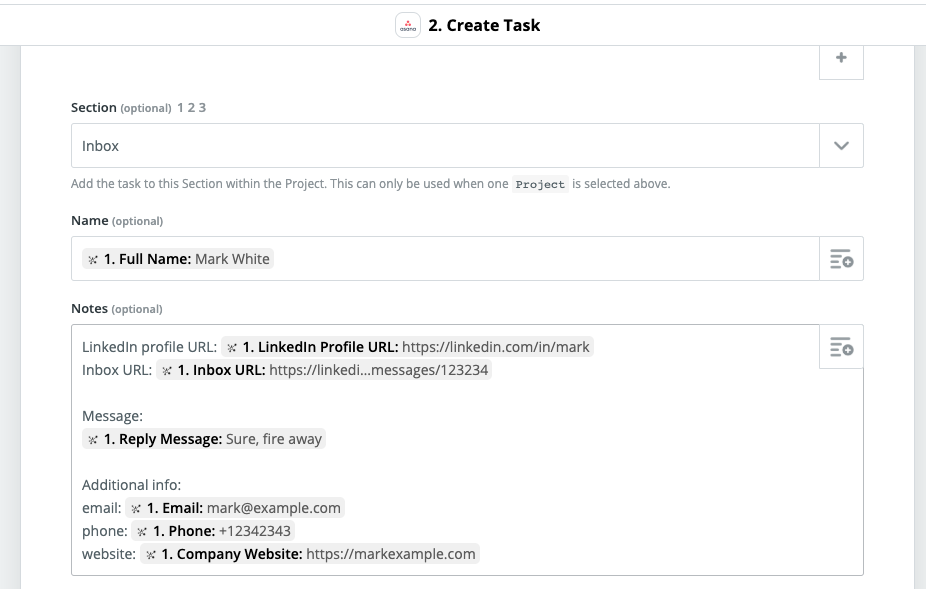 ---
Now every time you run InTouch Tool and if there is a reply, it will send it to your "inbox" in asana.

From there you can easily access the LinekdIn inbox to send the message and them move them to the "sent" folder.

You can customize that further and add additional steps like "need followup", "interested" etc.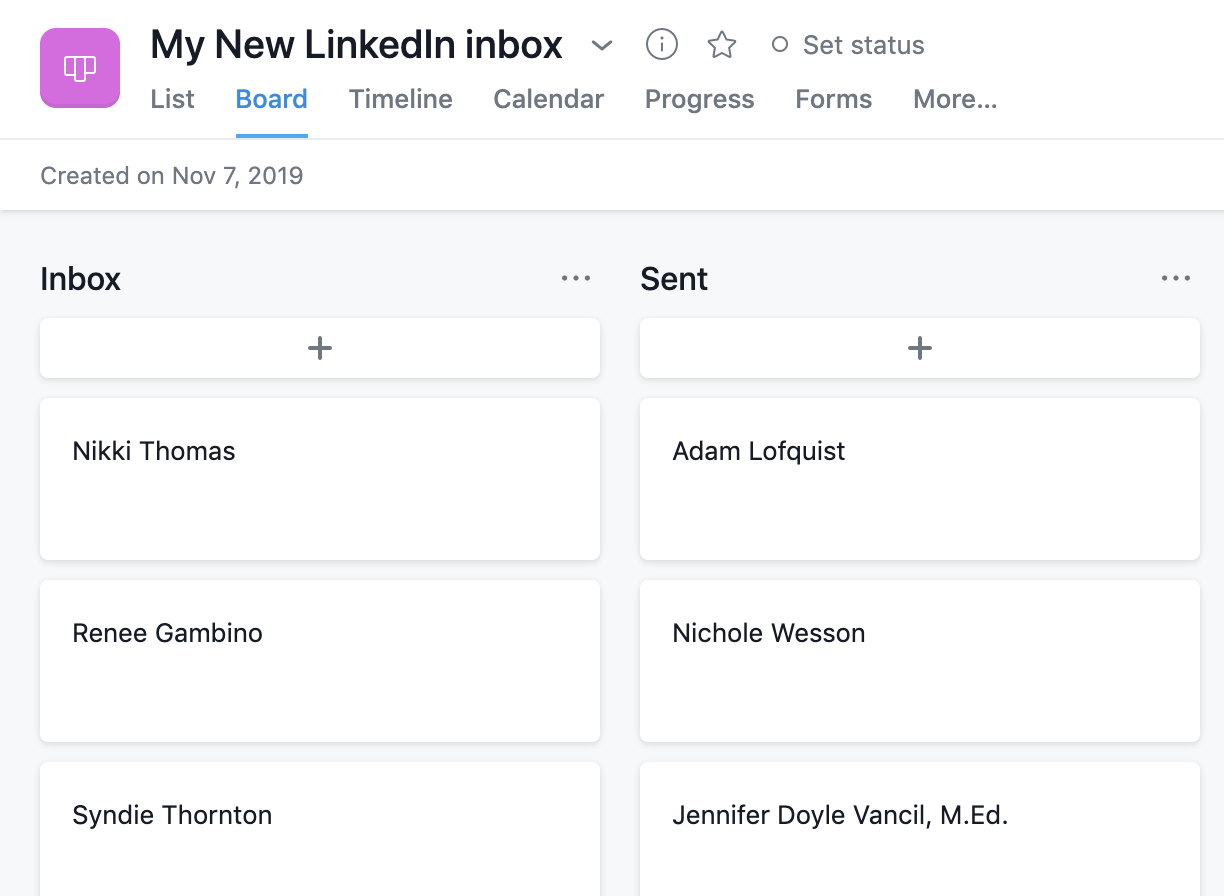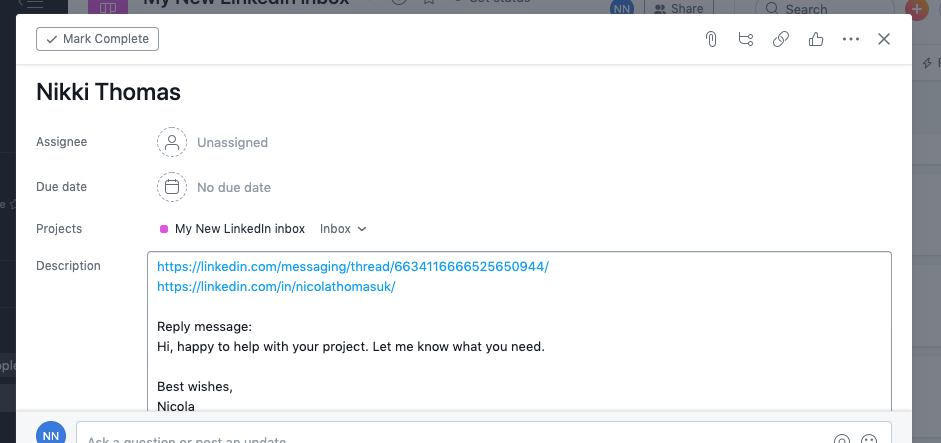 That's it for today! Reach out to us if you have any questions or suggestions.